I'm sharing on oldie but goodie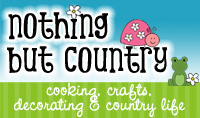 While you're there, check out the rest of Mary Beth's blog!!
So many great ideas, freebies & crafts...it's one of my favorite places!
------------------------------------------------------
As you know, we just moved into a new house.
I plan on having an 'official' housewarming party soon
(it will be combined with a football weekend too).
In the meantime, I wanted to try out a few ideas on my in-laws.
A DIY ice cream sandwich/cone bar.
I will admit that I had 99% of the ingredients already -
which makes for a cheap party :)
I used store bought ice cream sandwiches cut in half.
I used sprinkles, M&M's, mini marshmallows & Reese's cups as 'add-ons'
I also had vanilla and chocolate frozen yogurt
It was a success!
I mean, it's 100 degrees here - who's not gonna want ice cream?!?!
I hope you had a great weekend.
This week, the lizard's elementary school is having a pep rally.
I'll share the goodies I'm sending to school with him :)
Here's a hint...the mascot is a bear - any ideas???