not me...this project :)
I found these cute buckets at Target's $ spot a while back.
I had the letter stickers already.
So for $5..I've got 2 cute personalized tubs for the lizard and ladybug :)
I could kick myself for not getting more of these buckets.
I check 'the spot' every time I'm at Target (which is way too much).
Sometimes it's the super simple projects that I like best!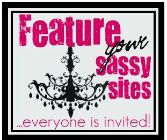 Frugalicious Friday